Sales is the lifeblood of every business. For the sales team, time truly is money, and unfortunately, according to HubSpot, 50% of that time is wasted on unproductive prospecting. 
You see, your sales representatives can spend a great deal of time following up with leads who have no intent of ever buying from you.
Perhaps the contacts just wanted the free ebook — or maybe they would love to buy from you, but just can't afford you yet. Worst of all, maybe they're just a bot. The point is, far too often, sales is spending time on prospects that are not worth your business' time.  
Sales enablement can help combat this by bringing quality leads to the surface faster, making the sales process faster, your sales team more confident, and increasing sales. No wonder searches for "sales enablement" have gone up every year on record, according to Google Trends. 
IMPACT has been honing its sales enablement efforts for almost a decade and educating hundreds of businesses around the world to do the same. In this article, we'll share much of what we've taught them including:
What sales enablement is
Why you need a sales enablement strategy
What a successful sales enablement plan includes
Free Course: Assignment Selling: Content is the Greatest Sales Tool
What is sales enablement?
Simply put, sales enablement is the process of providing resources to your sales team to help it close deals faster. This may include hiring staff and buying tools, among other things, but we'll primarily be focusing on the crux of it all — content creation. 
Let's say a salesperson meets with a dozen potential customers over the course of a week. Some are good-fit prospects and some are not, but all of them have questions, concerns, and objections running through their minds. 
Many of these questions are not specific to the unique needs of that one particular prospect. They're general questions about the buying process, your products or services, or how different options compare. 
Sales enablement content tackles these head on. 
Sales enablement content is marketing content that provides answers to common questions that come up in the sales process, such as cost, reviews, and the rest of the topics we call The Big 5. Great pieces address these concerns so that:
Prospects can self-qualify or disqualify themselves while researching a purchase. 
Prospects are better informed if/when they start a sales conversation.
Salespeople have materials to respond quickly should a question or objection come up in a sales conversation. 
The sales process can run faster and smoother because prospects are more qualified or questions or objections to buying are addressed quickly, moving fit buyers to purchase faster or disqualifying the unfit faster. 
When you practice sales enablement, buyers may find the content on their own or the sales teams can share it in a practice we call assignment selling.
Assignment selling is when a sales rep shares a specific piece of content after a call to provide a more thorough answer than what was provided during the conversation, or ahead of a call to get major questions out of the way beforehand.
Regardless of how the content is shared, the sales process is aided by reducing friction and minimizing inefficiency in sales conversations. 
Why do you need a sales enablement strategy?
According to data from Learn Hub, most companies implementing a sales enablement strategy saw a 6%-20% increase in sales. 
Let's dive into why.
First off, when you have sales enablement content on your website for prospective customers to find during their purchase research, they become far better educated about your product and service. 
When they are better educated, they can disqualify themselves as not a good fit for your business early on and never speak to sales, or, when they get to sales, they have fewer unanswered questions and concerns and be more ready to buy. 
This means sales reps spend less time on poor leads and also less time closing the good ones. 
Second, sales enablement boosts the confidence of every sales rep. With a library of content behind them, sales reps can confidently respond to any question that comes to them from a prospect. 
IMPACT's Melissa Prickett, a tenured salesperson with more than two decades of experience, echoes this idea:
Sales enablement helps me do my job better. With it, I know every time I get a question  from a prospect, I have a thorough, vetted answer I can hand them.

Because I work so closely with the marketing team, I am confident this content is 100% accurate. And, if I end up hearing a totally new question, I bring it to my marketing team and they create new content specifically for that question.
Sales enablement template
Frankly, there is no template for sales enablement success, let alone a sales enablement strategy. Each business usually finds they need unique items based on the questions and preferences of their audience and the resources they have or can invest in. 
For instance, one company may need to focus on creating sales enablement content for social media because their audience frequents Instagram, while another will find more success with downloadable PDFs on their website. 
Regardless of these intricacies, however, there are some key elements to consider. In the next section, we will outline five to start building a sales enablement strategy that actually works. 
What does a successful sales enablement plan include?
1. Plan for sales enablement team structure
Sales enablement is first and foremost a joint effort of your marketing and sales teams.
That's not to say everyone from both teams needs to contribute, but representatives from each need to have their hands in the process. This includes, but is not limited to: 
Sales team representative: This person should be a sales rep who regularly has face-to-face contact with prospects or clients and is not resistant to trying new things. They will be responsible for communicating insights to the content team about what questions are coming up — and possibly even serving as a subject matter expert to create the content. They will also be in charge of making sure the content gets used in the sales process. 
Content writer: This person could be called a copywriter, inbound specialist, or another name, but the role should be clear: producing sales enablement content that is well-written, thorough, accurate, and optimized. Your writer will work with the sales team rep and other subject matter experts to create content needed in the sales process. Creating content should be their sole focus. 
Administrator (or content manager): Depending on your size and needs, this could be accomplished by the content writer or someone else on the marketing team. Either way, this is

the person who owns your content strategy

and makes sure all of your goals are accomplished. This role is responsible for:

Organizing the content so salespeople can always find what they're looking for.
Analyzing engagement data to improve future efforts.
Flagging older content for updating and historic optimization.
Scheduling and running regular brainstorm meetings (aka

revenue team meetings

).

Videographer: Depending on your audience, you may want to produce video sales enablement content as well. This could include things like

customer journey videos

,

landing page videos

,

80% videos

, or others from

The Selling 7

. 
2. Plan for content strategy
Sales enablement content can take any form, depending on the preferences and behaviors of your audience and their buyer's journey. For some, this may mean short videos; for others it may be long articles. For most of our clients, however, common types of sales enablement materials include a diverse content mix of :
Blog articles
Videos
Buyer's guides
Product/service overviews
FAQ web pages
Case studies
What should they cover?
Regular brainstorms with sales and marketing teams will help your content manager/administrator develop a backlog of topics. On top of that, marketing team members should regularly watch sales calls to hear questions and concerns directly from the mouths of your buyers. 
However, in most cases, companies begin by focusing on The Big 5 topics all potential customers want to know:
Costs: How much your solution costs (factors, considerations, what defines value, etc.).
Problems: The negatives about, or issues with, your solution (that buyers tend to ask about).
Comparisons: How your product or solution compares to similar products or solutions.
Reviews: Honest and unbiased opinions and observations about your product, solution, etc.
Best of: What the best solution available is.
While this sales enablement content will likely live on your website, it probably won't drive much in the way of organic traffic. The audience that consumes it, however, will have high buying intent. Expect higher time on page and lower bounce rates than with other pages. 
3. A documented sales enablement process 
When we say sales enablement process, we're really talking about how sales enablement content is communicated and distributed internally and externally.
This all starts with what we call a revenue team. A revenue team is a group of key representatives from your marketing and sales teams who meet regularly around the shared goal of increasing company revenue. 
During this revenue team meeting, the team develops and executes a strategy to accelerate the sales cycle based on the most pressing questions of your ideal buyers.  
This starts with the sales team communicating the questions they are getting asked most frequently during the sales process and by clients, and marketing taking note for the development of their content backlog.
The revenue team meeting is also a time for marketing to share the sales enablement content that has been published and educate/train the sales team on how to find it and also when to use it in the sales process.
This can also serve as a time to hold the sales team accountable for using the content as intended. Sales enablement content is only effective if it is actually making it into the hands of prospects and clients at the right time. The revenue team meeting is your best opportunity to achieve this alignment. 
Want to learn more about running a successful revenue team meeting? Check out our article "How to run a revenue team meeting (+example agendas)."
4. The right sales enablement software and tools
Like anything in digital marketing and sales, software and tools can help make sales enablement more organized and efficient. 
This can range from helping you automate the delivery of content through live chat or email, or tracking purchase intent behaviors. With this in mind, here are a handful of sales enablement tools we recommend. 
HubSpot Sales Hub 
HubSpot is one of the most powerful marketing, sales, and service automation platforms on the market today.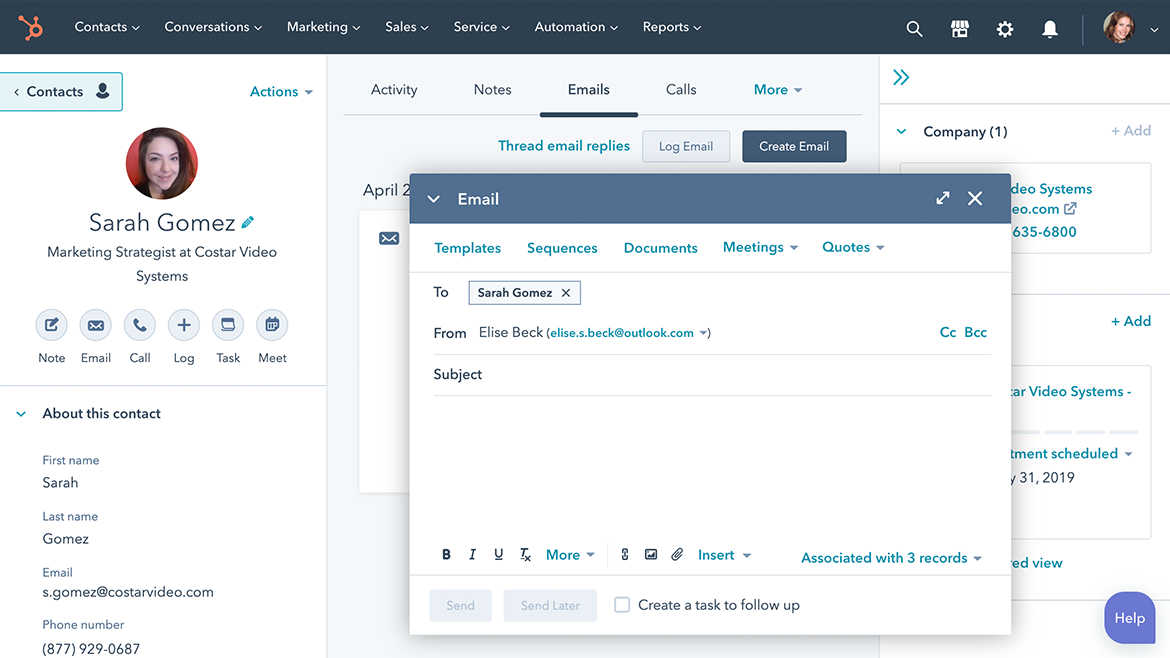 Even with the free version, there is a lot a sales organization can accomplish with this software. For example, whenever prospects fill out a form on your website (contact form, ebook download form, etc.), you can track their behavior and see how close or far they are from making a purchase. 
This includes what pages they've visited on your website, how much time they spend on your website, and what emails they've received, opened, and read.
Your sales team will also benefit from HubSpot's automated tasks, such as:
Tracking ROI with automated reports
Automating emails
Allowing prospects to book calendar appointments with your staff
Engaging with prospects on live chat
Click here to dive deeper into HubSpot Sales Hub for sales enablement.
Vidyard 
Vidyard is a sales enablement tool you can access from your Chrome browser that allows you to record, post, and share videos effortlessly.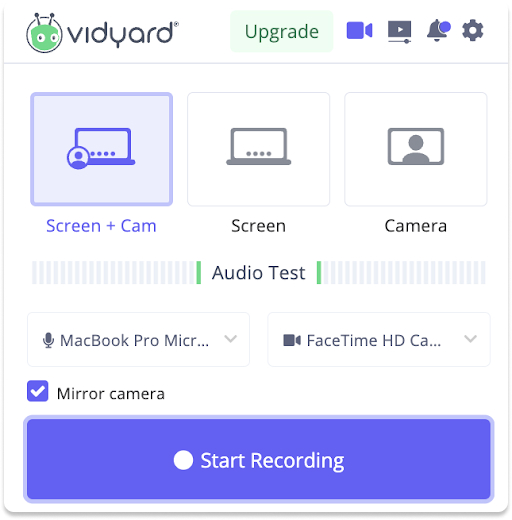 This makes it easy for your sales reps to personalize correspondence with prospects in email and also create on-the-fly video sales enablement content. 
Vidyard also offers a range of analytics — such as how your viewers are interacting with your content and who they are — and it integrates with other popular platforms, such as HubSpot, LinkedIn, and Salesforce. 
This saves your sales reps time and allows them to view valuable video data alongside customer records and reports.
Click here to dive deeper into Vidyard for sales enablement.
Paperflite
Paperflite is a content management tool to help your sales team consolidate its content in one place. 
This makes it easier for sales reps to access and share the content they're looking for by organizing it into easy-to-understand different collections and categories. Not only does it help make things easier to find internally, but it also helps them share content in a way that is visually appealing, rather than sending prospects a bunch of bulky attachments:
Click here to dive deeper into Paperflite for sales enablement.
Intercom
Intercom is a conversational marketing tool that helps you engage with your prospects in real-time via live chat and chatbots on your site. Intercom can be set up to help your customers choose their own path through your sales process or easily reach someone on your team in a chat. 
Click here to dive deeper into Intercom for sales enablement.
Drift
Like Intercom, Drift is another sales engagement tool that helps businesses engage with prospects in real-time. Drift, however, goes beyond live chat to also include video, voicemail, and email. 
You can set Drift up so prospects get a personalized notification while they're searching for information on your website. That notification might look something like this:
Like HubSpot, the software allows you to track when prospects are on your site and how engaged they are. This can help your sales team focus on prospects further down the sales pipeline:
Click here to dive deeper into Drift for sales enablement.
5. Sales enablement metrics
Any new marketing initiative should include metrics to help you understand how you are progressing toward your goals, and sales enablement is no different.
When it comes to sales enablement, your metrics should be focused on just that: how well sales are being aided by your efforts.
Metrics you may want to track include:
Number of sales qualified leads (generated from your content): This is the number of sales qualified leads (or prospects that are a good fit for your product or service) being generated by your sales enablement content and efforts. If your sales enablement efforts are working, this number should increase.
Close rate: This is how frequently a lead turns into a customer. If your sales enablement efforts are working, this rate should be going up. 
Average sales cycle length: This is how long it takes a lead to close once they enter your sales cycle. If your sales enablement efforts are working, your average sales cycle length should decrease. 
You may also want to dig deeper into metrics to look at variables such as time on page or bounce rate to evaluate individual pieces of sales enablement content, but those will be less indicative of your bottom line. 
Unite your sales and marketing teams for sales enablement success 
More than anything, sales enablement is about uniting your whole business, especially marketing and sales, around the common goal of closing more deals and increasing revenue. 
This means creating a culture that supports the consistent publication of content that addresses your prospects' biggest questions and concerns and then ensuring its use throughout the sales process in assignment selling.
Want to learn more about creating a revenue team meeting and sales enablement content? Check our free course in IMPACT+, "The Revenue Team Approach to Sales Enablement Content."